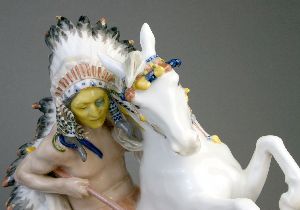 'North America' modelled by Erich Hösel
FORGOTTEN MEISSEN FROM THE ART NOUVEAU AND ART DECO PERIODS
For my third and long overdue newsletter I want to introduce a period of Meissen porcelain that has been of interest to me for over twenty five years; it is only now beginning to receive the recognition it deserves from collectors. I am referring to the Art Nouveau and Art Deco periods 1885-1940. From these periods, other disciplines such as glass (Daum, Gallé and Lalique) bronze (Chiparus and Preiss) have shown a marked increase in popularity and consequently in price over the last twenty years. Why has this interest in the Art Nouveau and Art Deco not extended into the field of Meissen porcelain? The answer is that not enough has appeared on the market to ignite an interest among collectors. The major auction rooms have been able to put together sales of art glass and bronzes on a reasonably regular basis; with ceramics this has only just started to happen. Factories such as Moorcroft and Clarence Cliff, where the volume of production was sufficient to create and sustain an interest, have seen their popularity rise due to regularly featuring in auction catalogues. Collectors can be impatient and not prepared to wait any great length of time before being able to add to their collections. However, the enthusiastic collectors of Meissen Art Nouveau and Art Deco porcelain may have to be resigned to a lengthy wait.
I have been buying this period of Meissen for over twenty five years and can attest to the rarity of the items produced. This was partially as a result of the complexity of production and the destruction of a great deal of the output during two World Wars, resulting in the surviving pieces being under appreciated and undervalued.
Towards the end of the nineteenth century a series of new high fired enamel paints were developed at Meissen. These enamels gave a distinctive feel to this period of production, fusing into the glaze to create the soft rich effects that are their feature. Although the finished models were attractive they were difficult to work and could not be justified for long on economic grounds. I discuss the use of these enamels in detail in Meissen Porcelain Dogs 1875-1925 which I published in 1997. It was my intention to bring this period of Meissen canine production to a wider audience and over the intervening ten years I feel that this aim has been achieved.
In this newsletter I can only give a small taste of the varied production from this period in the history of Meissen. I aim to do this by introducing some of the more important modellers and artists with illustrations of their work.
Monkey musician modelled by Otto Pilz c.1915
For three quarters of the nineteenth century very little original work was undertaken at Meissen, the Manufactory being content to reproduce its earlier models. The last quarter however, saw a dramatic change as the Manufactory realised that it would have to innovate if it was to maintain its position as the pre-eminent European porcelain factory. New managers were hired, who in turn engaged the services of the foremost artists of the day. I am going to limit myself to a brief description of six of these artists. Konrad Hentschel, Erich Hoesel, Paul Walther, Max Esser, Martin Wiegend and Paul Scheurich. This I will do in part two of this newsletter.
If there are any questions concerning this period of Meissen production I will try to answer them in part two which I will publish in a months time.